on
February 26, 2013
at
6:00 am
What an interesting bunch of people.
–ALSO–
THIS WEEKEND!  THIS!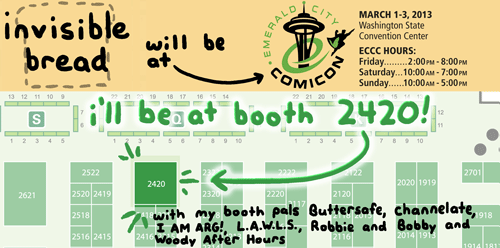 If you're gonna be there, please stop by!  I'll have the coffee mugs, shirts (including Burger 'Venture), buttons, prints, and the brand new Invisible Bread book, if you're in the mood to buy something!  If you're in the mood to chat, that's also awesome!  You can also chat with my booth pals Buttersafe, channelate, I AM ARG!, L.A.W.L.S., Robbie and Bobby and Woody After Hours!
–ADDITIONAL AND ALSO IMPORTANT ALSO–
My girlfriend starts taking her bar exam today, so please wish her luck =)  She's gonna do just fine, but a little extra luck never hurts!
↓ Transcript
red: someone in this elevator. has farted

red: who of these people would do such a thing to the rest of us?

red: i wish people could admit they messed up instead of trying to get away with it... we all make mistakes. no big deal

yellow: i'm sorry everyone. that was me

red: heh, people surprise you every day!

green: no no no, it's ok, don't cover for me. it was me!

red: ...this is getting weird

blue: don't listen to him! it was me!
yellow: meeee!
green: no! me!
orange: me!

red: ok, this is weird now