on
December 11, 2012
at
6:00 am
Just gotta power through that day and remember that after it's over, you will sleep and it will be glorious.
–ALSO–
I have a little surprise for you all!  Check it out: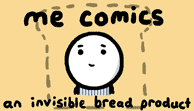 Sometimes, I just wanna comicize the things I do daily, so this is where all those comics will go!  I hope to be updating that at least a couple times a week, so keep peeking on over there if you wanna read some extra comics and see what I'm up to!
↓ Transcript
orange: i'm too tired to function. but i have important stuff to do. i can do this

*in class*
teacher: in the back, who was responsible for The New Deal?

orange: pancakes. lots of 'em

*on the court*
orange: hey. open. me.
*person passes the ball*

orange (laying on ground, ball bounces off of head): got it

*later*
teacher: alright class, bring up those tests

orange (handing teacher test): test. test
teacher: thank you. ...umm

*test has a cow doodle on it and a stack of pancakes, delicious pancakes. pancakes > waffles*

orange (standing in front of bed): finally home. sheep lime

(orange falls onto foot of bed)

orange: close enough