on
June 12, 2012
at
6:00 am
This happens to me pretty much with every game that gets a little tricky.  Sometimes though you see the solution and just go "No way.  How was anyone ever going to get that?"  *ahem*fez monolith*ahem*
Oh yes, and I added a new comic to The Programmer story!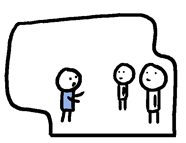 ↓ Transcript
justin: i have no idea what to do now in this game! but i refuse to look up the solution

justin: i need to figure this out on my own. ok google, just give me a tiny hint. very tiny. and...

*phone*
the hint: GO HERE AND DO THIS! THAT'S THE SOLUTION!
you're welcome

justin: whoops

*justin has happy look*

justin: i would have figured that out on my own anyway
*completion sounds*
justin: yeah!