on
January 29, 2013
at
6:00 am
Don't forget your laundry!  Ahh!  I still constantly forget about my laundry.
Oh yeah, and I'm gonna be at Emerald City Comic Con in a couple weeks!  If you're gonna be there, you should definitely come on by and say hi!
–ALSO–
Do you read Robbie and Bobby?  I would really like it if you did!  My friend Jason does that comic and I really enjoy it.  He's a pretty enjoyable guy too!
Here's one of my recent faveys.  Click it to read the whole comic!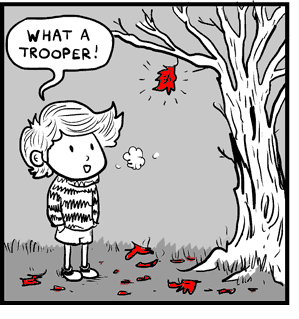 ↓ Transcript
*orange is sitting at his desk in his dorm room typing on his laptop*

*orange is smiling and typing*

orange (suddenly shocked): ahh! my laundry! it's still in the machine in the laundry room!

orange (running): one hour late?! all my clothes are gonna be gone! ahhh! AHHH!

orange (looking at some guy): is that guy wearing my shirt? am i too late?!

*orange slams the door open*

blue: one plain black t-shirt. minor stains. bidding starts at one pack of ramen
bidder (holding up a pack of ramen): ooo!

orange: NOOOOOOOO!
bidder 1: eh, i'll pass
bidder 2: what kind of stains?
bidder 3: two beef ramen packs here!