on
February 14, 2012
at
6:00 am
Seriously Steam, stop reminding me that I have all these great games I could be playing instead of doing work.
What's that?  L.A. Noire?  I haven't played it in a couple weeks and you want me to play it, steam?  Haha, … ok.  Ok ok, no need to yell.
Oh yes, and remember, I just got these handshake consultant shirts in for the preordering!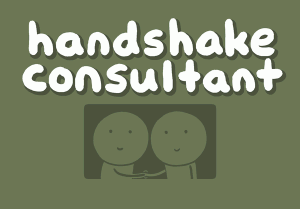 ↓ Transcript
orange: i really don't want to work on this, but i have to get it done...

orange: wait, what's that? video games? is that you?

orange: steam? was that you? you want me to play a game?

orange: hahaha, i have important things to do tonight, steam! you're funny!

orange: what's that, steam? i bought a bunch of games during the sales and you need me to play them?

orange: haha! ...ok

*hours later*
orange: this is much better. thank you steam

*the next day*
orange: steam! i'm never gonna get this project done on time now! STEAM! what you done?!

orange: you're ruining my life AND it's costing me money! STEEEEEAM!!!