"important nasa guy" Shirt
on
October 10, 2011
at
10:30 pm
Edit: The preorder is over.  Thanks everyone!
Edit 2:  I have a couple more for sale!  Supplies are limited.
You know this guy, right?  From this comic?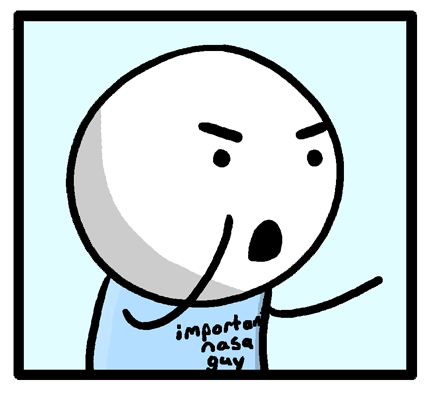 Do you wanna be like that guy? Do you want to be an important nasa guy like him?  Now you can!
[Button removed] only $12 + shipping! Available in S, M, L, XL and XXL on this type of shirt.  (please be sure to include the shirt size you want on the final Paypal page)
No need to slam it in people's faces how important of a nasa guy you are.  You don't need big rocketships on your shirt or huge flashy text.  All you need are the words "important nasa guy" on a shirt and a torso.
This will be a limited printing run, so to get this shirt, you will have to preorder!  Preordering will end on October 21st, so get those preorders in before it's too late to become an important nasa guy.
This shirt is for all of you who said they would like to own this fun shirt =)  If you have any questions about the shirt, just lemme know in the comments.  Thanks!
(If you have an interest in an "important nasa lady" shirt, please let me know in the comments.  Additional thanks!)