on
March 10, 2012
at
6:24 pm
Wanna help out my Twitter pal Tim Sevenhuysen?  Awesome!  He has a site called Special People, which is a web serial about people with superpowers!  It involves reading and is only words, but it's good reading.  So give it some reads and if you wanna help him out, check out his crowdfunding campaign to help him get that comic made!
Also, I've added part 4 of The Programmer story that I'm making for funtimes.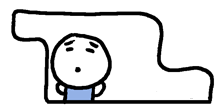 Invisible Bread Ads
Have any of you experienced an ad that says "click here" or anything like that over the past couple days?  In general, if you ever see a big pop-over, pop-up or any ad that's super annoying, just lemme know.  I filter all of those terrible ads out, but sometimes my ad networks have a couple that slip through that I have to manually fix.
And now, I just wanna chat a little bit =)  Go on and continue reading if you would like to know things about things that I'm doing!