on
February 19, 2013
at
6:00 am
Getting back to work after a vacation is almost impossible.  That first day is just spent staring at the work you used to do and wondering how the heck you're supposed to do it.
OH YES, AND THIS THING IS HAPPENING NEXT WEEKEND!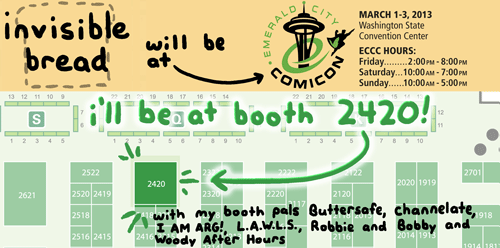 That's right, Invisible Bread plus all these other great comics, all in the same booth.
Woo!
↓ Transcript
worker: well, my little vacation is over. back to work.

worker: crap, i forgot what i was working on. ...hmmm

worker: how the heck do i even do my job? i knew how to do this before? no way

worker: well then, this job had a good run

worker: hey boss, i'm back from vacation, but i gotta quit my job. i can't remember how to do a single thing

boss: NEITHER CAN I!