on
November 6, 2012
at
6:00 am
I'm pretty ok at doing that parallel parking thing.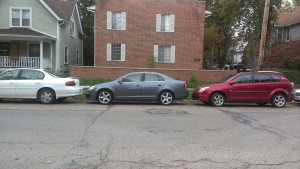 That's my car right there in the middle.  I parked into that spot like a parallel parking champion.
So now you may be thinking "…you parked your car and then got out and took a picture of it?".  No no no, of course not.  I parked my car, went to the gym, then when I got back I took the picture.
↓ Transcript
justin: just a little more... and...

justin: cut it! yeah!
*voosh*

justin: bring it back... *turn turn*

*car is pulling into a parallel parking spot*

*car fits in perfectly*

justin (celebrating): ten perfect parallel parks in a row! yessssss!

person: that was amazing! i watched from my porch and it was... it... i'm sorry, i'm getting a little chocked up. congrats!

person 2: i saw too! i wish i could park like you! here are flowers!
justin: thanks!

person 3: everyone! gather all the flowers and give them to that man!
person 4: this man is the greatest parallel parker alive!
person 5: what an incredible person!

person 6: we must find a way to get a day dedicated to that man!
justin (daydreaming entire thing): yeaaaah