Monday Talks
on
September 17, 2012
at
4:50 pm
Hey everyone!  Here's #11 of The Programmer story!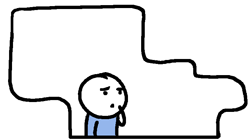 Now, I'm gonna chat about music for a little bit because music is awesome.  Did you know I had a band once?  Do you know that I write music?  More talking about all this kind of stuff after the jump =)
My Music Story in One Paragraph (and then two sentences)
It was always kind of a dream of mine to be in a band and tour and play my music for people.  So when I graduated from college, I got a job in NYC and started getting a band together.  We found a singer online and worked/rehearsed with him for a good while.  He wrote great melodies, but his voice just couldn't pull it off.  We talked to him about getting vocal lessons and so on, but he really wasn't too receptive.  Sadly, we had to let him go and try to find another singer.  We ended up not being able to find one, but then focused instead on finding a drummer.  We found this one dude and he was pretty good, but then he disappeared when he went on tour with Fuel to be the drum tech.  Once that happened, me and my friend called it a day on our band dreams.  That was roughly 5 years ago now.
Since then, I really haven't written much music.  That is, until recently when a new band (Mureau) inspired me to write music again.
tl;dr
So what I'm getting at is that I love writing songs and if you would like to hear the (metal) stuff I write, that would be awesome!  I would love to share them with you guys!
For example, here's something I wrote the other day:  quicksong4
And also, out of curiosity, what are your favorite bands?  Would love to know what you all listen to out there =)